BL-1050E AUTOMATIC DIE-CUTTING MACHINE
BL-1050E AUTOMATIC DIE-CUTTING MACHINE
Product Description
BL-1050E AUTOMATIC DIE-CUTTING MACHINE
Introduce
1050 die-cutting machine series can handle a variety of substrates, in addition to weight in the 80 ~ 2000g / m cardboard, it can also cut up to 4mm thick corrugated board (EB). Die-cutting pressure of 300 tons,die-cutting accuracy of ≤ ± 0.075, the minimum gap width of 8mm, and do no Goukou processing. After installation of heating function can also be 0.2 ~ 1mmPVC, PPC, PET and other plastic materials for heating die-cutting.
  Advantage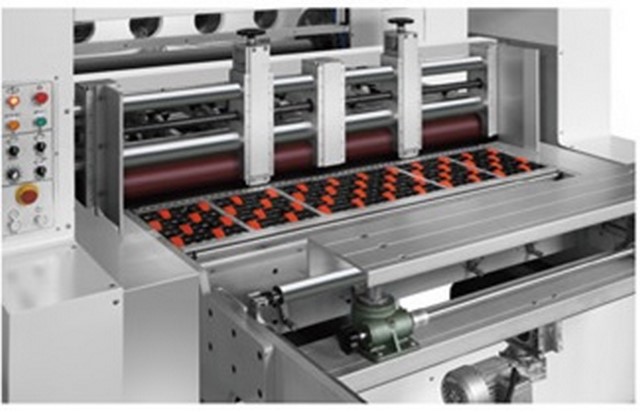 FEED TABLE
UNDER THE SUCTION PAPER FEEDING STRUCTURE MAKES FEEDER WORKS MORE SMOOTHLY.
PROTECT THE PRINTING SURFACE WITHOUT SCRATCHING.
FEEDING SYSTEM ON BOTH SIDES HAS PUSH GUIDE DEVICE, ENSURE THE ACCURACY OF FEED.
GRIPPERS VE ZİNCİR
GRIPERS, YÜZEYDE ANOD TEDAVİSİ İLE ÖZEL EKSTRA SABİT ALÜMİNYUM ALAŞIMDAN YAPILIR, DOĞRU KESİMİ SAĞLAR.
DOĞRUDAN KARARLILIK VE UZUN ÖMÜRLÜ İÇİN ANA GRİPPER ŞANZIMAN İÇİN ÖZEL GÜÇLENDİRME ZİNCİRİ KULLANILIR.
STRIPPING SECTION
TWO FRAME LINKAGE STRIPPING DEVICE HAS HARMONIOUS ACTION AND ACCURATE PRECISION.
ELECTRIC CONTROLLING LIFTING DEVICE ADOPTED TO ENSURE QUICKER OPERATION
Parameter
Machine model

BL_1050E/BL_1050S/BL_1050SS
Max sheet size
1050X750 mm
Min sheet size
400X750 mm
Max feeder pile height
1500 mm
Max delivery pile height
1400 mm
Max die cutting size
1040X720 mm
Die cutting plate size
1080X736 mm
Inner chase size
1140X750 mm
Cutting rule height
23.8 mm 23.6 mm
Stock range
80~2000g/m2 (paper),≤4 mm (corrugate).EB
Die cutting accuracy
≤ ± 0.075
Min.holding width
8 mm
Max die cutting speed
7500
Max die cutting force
300t
Air requirement
0.36m3/min :0.6-0.7Mpa
Overall power
BL_1050E
BL_1050S
19KW
20kw
Power required
380V/HZ,
Net weight approx
BL_1050E
BL_1050S
15t
16t
Overall dimension
BL_1050E
BL_1050S
6350X4250X2350 mm
7300X4250X2350mm